Overview
Online therapy tool In Your Corner provides people the ability to connect and have sessions with licensed therapists. The site was facing a drop-off in usage around their sign-up process, because the barrier of entry was too high for users to finish their onboarding process. People also felt the site was a bit clinical, making it difficult for them to put their trust in the product.
my team and I made the sign-up process shorter, reordered where the payment page was in the process, and prototyped an idea for a mascot to walk users through the process in a comforting manner.
Role: UX designer
Responsibilities: User research, UX (flows, content) of onboarding, prototype design, user testing
Research
During user interviews, people expressed time and time again that finding the right therapist was integral to success in therapy. Mental health is such a personal topic, and the therapist-client relationship had to reflect that.
Interview Quotes:
"I just want to reiterate how important it is to match someone up… [Someone I know] had a problem, and his regular therapist pretty much was like, 'This is out of my pay grade.' Maybe that could have been avoided if he had gotten the right therapist… It impacts your whole way of living more than most other kinds of diseases… There's more at stake."
"I met with many before I found the right one."
"I need to find therapist who really understands me."
Competitive Analysis
In Your Corner stands out among its competitors because it gives clients the option to choose their therapist.
Talkspace chooses for you.

Breakthrough allows you to choose, but its interface is geared more toward serving practitioners.

7 Cups of Tea is free but offers help from civilians, not experts.
user testing of current site
When testing the current usability of the site, we found that the flow was not intuitive and users hesitated to finish the proccess.
Users felt that the payment option came before they were fully aware of or invested in what they were purchasing. Because of this, users felt an initial distrust of the company.
Key takeaways:
People were unsure whether their cards were charged at the time of the session or right away.

Users felt the need to learn more about the product and process before they confirmed payment.

Users were confused and surprised by the fact that they had to make a payment up front.

People needed to feel secure with their therapist, and a "money grab" did not reassure them.

The spartan visual design made users feel like the product was in a beta stage.
WhiteBoarding
In order to synthesize our ideas, we wireframed the profile page individually and pulled the best aspects from each sketch.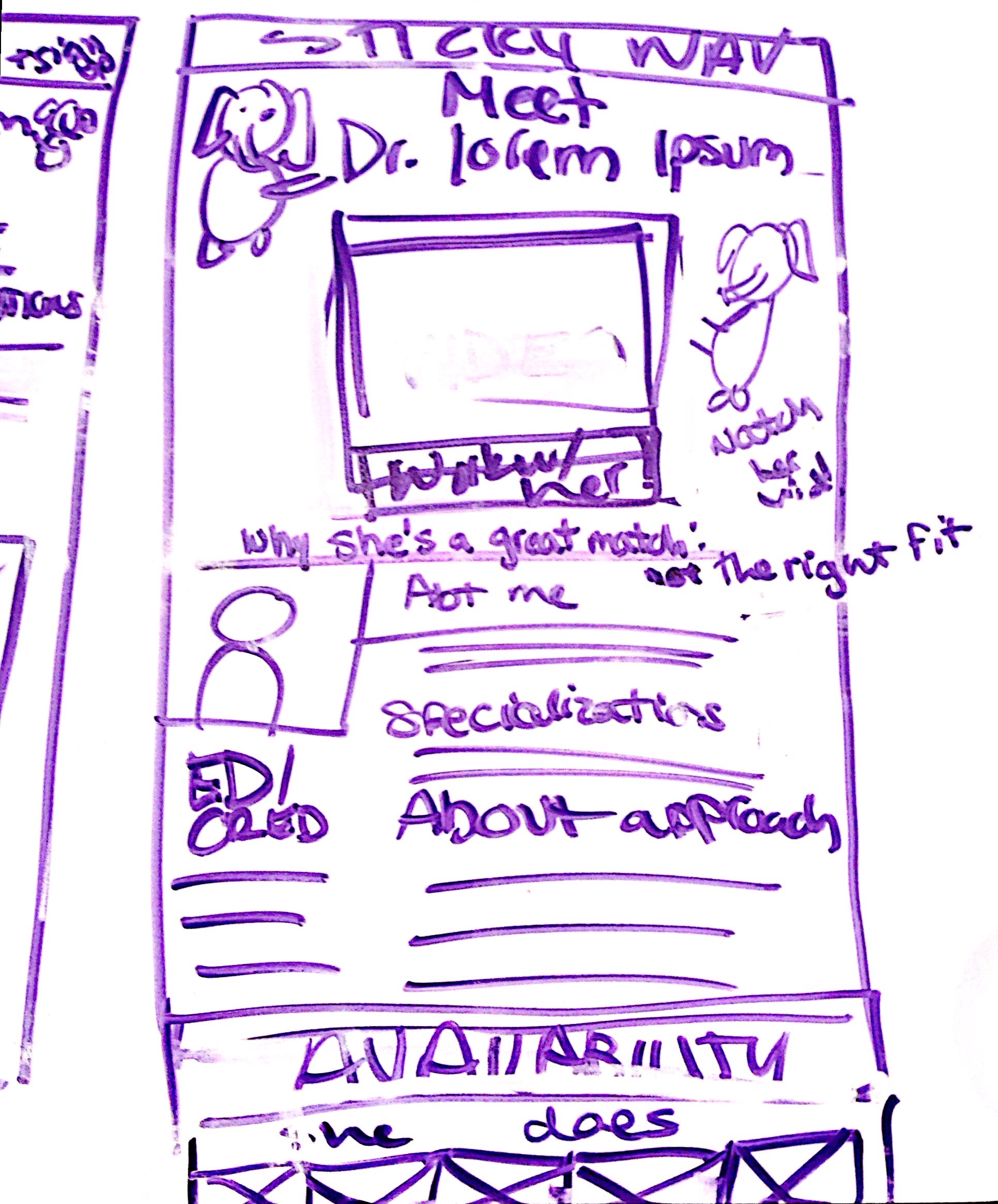 Design
home page iteration
First:
Had a Freud-like character to guide the user through

Had the steps listed out with images

Had the payment plan listed

Explained what the credit system was
Second:
Replaced the Freud with an elephant because Freud was considered creepy

Changed copy on button from "$25" to '"Join Now" to make it feel less like a money grab

Removed payment plan and automatically enrolled users in trial offer

Made the steps larger and clearer so users understood the process
Third:
Changed copy of "Join Now" to "Schedule Now" for clarity

Add images of Ziggy the elephant
to the steps for better clarity and comfort

Removed help line disclaimer at bottom of site
First:
Had a quote from the chosen therapist

Had an area for the user to send the therapist a message

Had a credit card form
Second:
Removed quote from therapist, as it was unnecessary

Added the price and content of purchase so users knew exactly what they were paying for

Added note detailing when the user would be charged
Third:
Added steps so users knew where they were at in the checkout process

Added scheduling session before payment so users felt like they were purchasing something tangible

Made the payment amount a bright, clear color for clarity
final product
Users felt the new design was much more clear as to what services they were purchasing, when they were being charged, and who their therapist was.
The elephant mascot will have to be iterated on, because although people liked the idea of him, the rendering seemed a bit childish for such an emotionally serious product.